Dead Sea Tour
Visit the Dead Sea and the desert of Moab, which is 28 miles from Amman and is the lowest point on earth at 1300 feet below sea level. The Dead Sea is one of the most incredible places in the world, known for the Biblical story of the destruction of Sodom and Amora, which was turned into salt.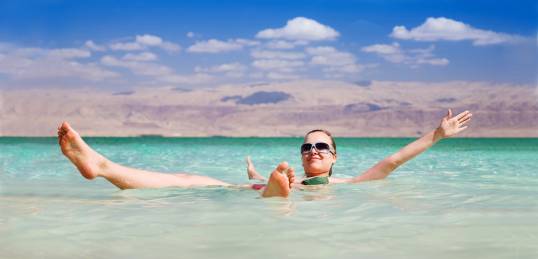 What You Can Expect
The shoreline of the Dead Sea, Jordan
The Dead Sea speaks for itself; there is no living fish in it! It is by far one of Jordan's most impressive and spectacular places to visit and spend the night for relaxation. The calm shining water glowing from the scorching sun above is known for the concentration of salt and minerals, which makes a therapeutic and unique swimming experience not to be missed!
Swimming in The Dead Sea is quite an incredible feeling as it is impossible to sink in the thick brine, which is four times as salty as regular sea water. One can even recline on the water and read a newspaper. Due to the extremely high content of salts and minerals the water is known for its curative powers and its mud is used as various treatments.
This is a private tour so please list any special interests you have (art, architecture, history, culture) at time of booking to alert our guide, so that he or she can better prepare for your private tour.
Understand Salt deposits
The water in the Dead Sea is extremely salty, and has been estimated to be the second saltiest major body of water in the world. Its name is derived from the fact that the water is far too salinated for marine inhabitation.
The Dead Sea is naturally endorheic (no outlet streams) with the Jordan River being its only major source. The northern part of the Dead Sea receives scarcely 100 mm (4 inches) of rain a year; the southern section receives barely 50 mm (2 inches). Due to the man-made reduction of the Jordan River (the river waters are 70-90 % used for human purposes) and the high evaporation rate of the Dead Sea, the sea is shrinking. All the shallow waters of the southern end of the sea have been drained and are now salt flats.